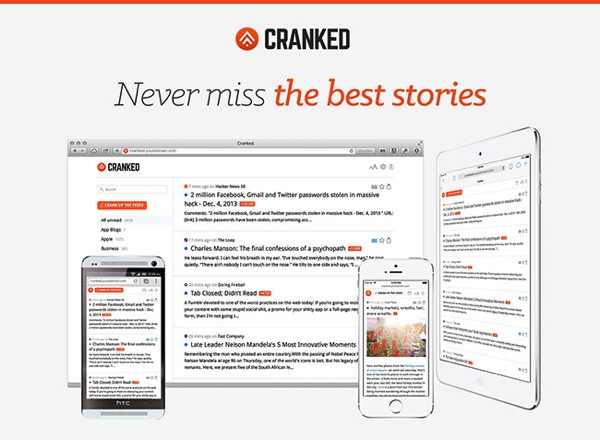 I was recently busy working on this new app called Cranked. It's a self hosted RSS reader.
Before Cranked which I have been actively using for a month now, I was a Fever user. I'm a fan of Shaun Inman's work. I love using Fever. During the imminent shutdown of Google Reader, everyone flocked to all sorts of other hosted RSS reader applications like Feedly, Feedbin, Newsblur etc, I stuck with Fever.
I love Fever's simplicity, but as time goes by, I find myself needing more. There were a couple of features I needed that I don't think Shaun will be adding anytime soon, or even at all. Shaun's a busy man with lots of other ongoing projects. That's fair and I completely understand.
So I decided to build my own RSS reader that has everything I need.
Mobilize truncated articles
I want to be able to 'mobilize' truncated articles via Readability. A lot of websites truncate articles in their RSS feeds forcing you to read the full article by visiting their website. This is such that they can garner as much page views as possible for the benefit of their advertisers. That's totally understandable. But when I'm using an RSS reader to do my reading, I want to stay in it without getting yanked out of the app after every other article. Mobilizing articles is a norm on native mobile applications like Tweetbot and Reeder, but rarely available on web applications. So I want to make this possible on Cranked.
Font preferences
Another aspect that I find annoying are font sizes. Every RSS reading application has predefined fonts and sizes you'll be stuck reading with whether you like it or not. This ruins the reading experience for some people. Maybe I'm getting older, I like body font sizes to be bigger so I can read more comfortably. Of course this will not be the same for everyone, so I made font adjustment possible in Cranked.
Content discovery and curation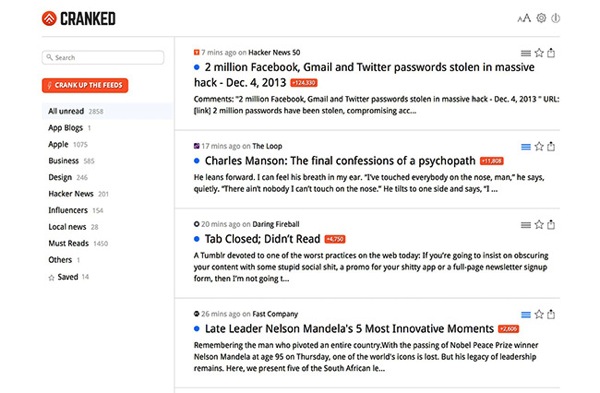 As much as I respect Shaun Inman and Fever's 'Hot' feature, I just don't find it useful, at least for me. Using the most highly regurgitated links as a metric for determining hot stories only leaves many great articles leaking through the crack. A lesser known author or blog may have written a great article worth reading but it may not be highly echo'd by well known media outlets. That's where you will miss out on great content. Just look at highly voted news on Hacker News for example, most trending items aren't regurgitated by popular websites, but they are on the front page of Hacker News. That is why people use Hacker News, for content discovery, for discovering the latest and greatest.
Every single vote on Hacker News count as a vote by people like you and me. The higher the vote, the more an article is worth reading.
How do I apply the same concept to an RSS reader to make content discovery more useful and accurate?
Social media sharing metrics.
People share articles from all over the world and these metrics can't be gamed (or at least easily). You can't force 10,000 people to share or like an article, even if you can, it's extremely challenging or nearly impossible. When someone share or like an article, it's usually because he or she is motivated to do that. Motivated by the usefulness or 'share worthiness' of that article. That is usually when an article is shared. And when 10,000 people do that, something about that article must have made people share it so wildly.
And when an article is shared or liked by someone, it counts as a vote that this article is worth reading. You might in turn find it interesting too, especially if you've subscribed to the site's RSS feed in the first place.
So, I built content discovery using social media metrics into Cranked by means of a toggle button called 'Crank up the feeds'. Cranked is a regular RSS reader until you hit this button. All articles, no matter which folder, feed, search term you're currently in will be sorted by the most liked and shared articles on Facebook and Twitter.
If you want to read the best stories in your 'Design' folder, you can. Best articles for the search term 'iPad Air'? There you have it. Just keep the 'Crank up the feeds' toggle on. If you decide you want to see the latest news, toggle the 'Crank up the feeds' button off and you'll see the latest news first just like any other RSS reader.
It's a simple idea but it'll transform your reading experience. There is nothing to learn and nothing to configure. Just a simple toggle button.
That's what Cranked is. I did not make Cranked just to compete with Fever, I made Cranked because I want a perfect RSS reader for myself. Hope you'll find it useful too.